Awesome Linux Software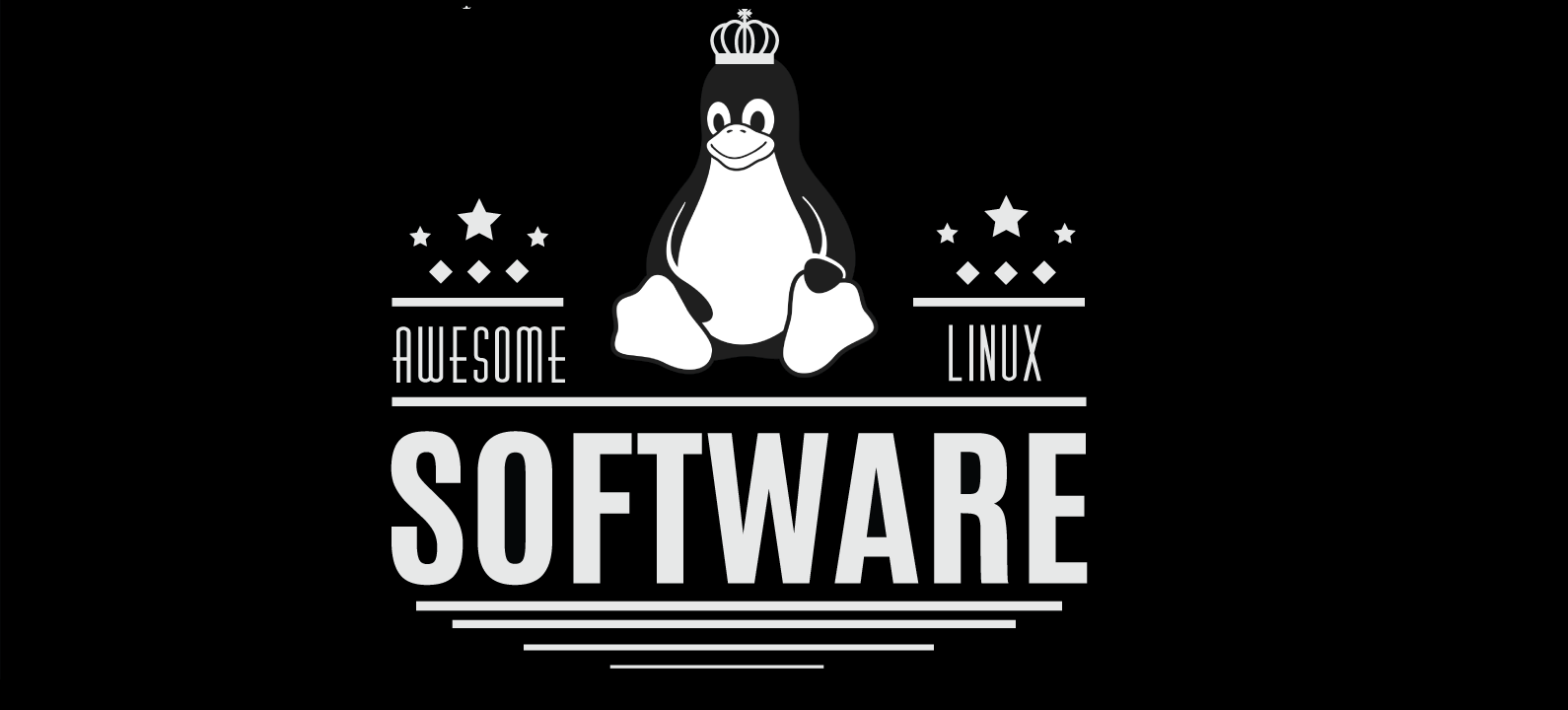 🐧 This repo is a collection of AWESOME Linux applications and tools for any users/developers.
🐧 Feel free to contribute / star / fork / pull request . Any recommendations and suggestions are welcome.
Update: This repo has been published on Gitbook. You can share this link with new users, as they may find it friendlier to read than GitHub. Download as a pdf here.
Acknowledgement: Everything written below is from my own experience in college and after reading various materials. I am neither a professional nor an expert, but a passionate student. Anyone can open a discussion in the issue section, or a pull request if something should be modified or added. If you consider my work valuable, a donation is much appreciated.
Table of Contents
---
---
Applications
Audio
For a more comprehensive/advanced/better categorized/... list of Linux audio software, you may want to click here
Chat Clients
3rd party Client
All-in-One Client
Franz - Franz is a free messaging app that combines many chat & messaging services into one application.
Pidgin - A universal chat client.
Rambox - Free, Open Source and Cross Platform messaging and emailing app that combines common web applications into one.
Chat Client Utilities
Red Discord Bot - Red Discord Bot is a self-hosted music/chat/trivia bot that can run on a Raspberry Pi and a variety of OS's. It's extensible through a system of "Cogs" that allow it to do more.
IRC Client
HexChat - HexChat is an IRC client based on XChat, but unlike XChat it's completely free for both Windows and Unix-like system.
Irssi - Irssi is a modular chat client that is most commonly known for its text mode user interface.
KVIrc - KVIrc is a free portable IRC client based on the excellent Qt GUI toolkit.
Official Client
Data Backup and Recovery
Desktop Customization
Desktop Themes
Desktop Widgets and Theme Utilities
Desktop Icon Packs
Development
Android
Anbox - Run Android applications on any GNU/Linux operating system.
Android studio - The Official IDE for Android: Android Studio provides the fastest tools for building apps on every type of Android device.
C++
Database
Golang
GoLand - GoLand is the codename for a new commercial IDE by JetBrains aimed at providing an ergonomic environment for Go development.
Java
BlueJ - A free Java Development Environment designed for beginners, used by millions worldwide.
Eclipse - Eclipse is famous for our Java Integrated Development Environment (IDE), but can also download packages to support C/C++ IDE and PHP IDE.
IntelliJ IDEA - Powerful IDE for JAVA. The Community version is open sourced.
Javascript
Webstorm - Powerful IDE for modern JavaScript development, made by JetBrains.
Microcomputer and Embedded Devices
Arduino IDE - The open-source Arduino Software (IDE) makes it easy to write code and upload it to the board.
Fritzing - Fritzing is an open-source hardware initiative that makes electronics accessible as a creative material for anyone.
Sloeber IDE - Sloeber IDE. The Arduino IDE for Eclipse.
Multiple Languages Support
PHP
PHPStorm - Lightning-smart and powerful PHP IDE from Jetbrain.
Python
Shell
Supporting Tools
E-Book Utilities
Editors
Education
Email
File Manager
Games
RTS
Turn Based Strategy
Battle for Wesnoth - The Battle for Wesnoth is an open source, turn-based strategy game with a high fantasy theme. It features both singleplayer and online/hotseat multiplayer combat.
FreeCiv - Freeciv is a Free and Open Source empire-building strategy game inspired by the history of human civilization.
City Building Simulation
FPS
RPG
Tales of Maj'Eyal - Tales of Maj'Eyal (ToME) is a free, open source roguelike RPG, featuring tactical turn-based combat and advanced character building.
Zelda Classic - A tribute to Nintendo's The Legend of Zelda with additional quests, items and challenges.
Zelda: Mystery of Solarus DX - A direct sequel to The Legend of Zelda: A Link to the Past on the SNES, using the same graphics and game mechanisms.
Command Line Games
Miscellaneous
Engine Re-creations (require the actual game)
NXEngine - A source port of Cave Story that runs natively on Linux, source needs to be built.
openage - Free (as in freedom) open source clone of the Age of Empires II engine, source needs to be built.
OpenMW - A recreation of the Morrowind engine, expanding upon the original. It can be used to play legitimate copies of original game.
OpenRA - Classic strategy games, rebuilt for the modern era. Open source.
OpenRCT2 - A recreation of the Rollercoaster Tycoon 2 engine. Requires the original games assests.
Gaming Applications
Graphics
Graphic Creation
Image Editor
Aftershot - A powerful alternative to Adobe Photoshop.
Darktable - Darktable is an open source photography workflow application and RAW developer.
GIMP - GIMP is a freely distributed program for such tasks as photo retouching, image composition and image authoring.
GraphicsMagick - GraphicsMagick is the swiss army knife of image processing.
Hugin - an easy to use cross-platform panoramic imaging toolchain based on Panorama Tools.
ImageMagik - ImageMagick is a suite of command-line utilities for modifying and working with images.
imgp - Blazing fast terminal image resizer and rotator.
Luminance HDR - Luminance HDR is an open source graphical user interface application that aims to provide a workflow for HDR imaging.
Photivo - Photivo is a free and open source (GPL3) photo processor, handles your RAW and bitmap files (TIFF, JPEG, BMP, PNG and many more) in a non-destructive 16 bit processing pipe with gimp workflow integration and batch mode. It is intended to be used in a workflow together with digiKam/F-Spot/Shotwell and Gimp.
Piskel - Browser-based editor for animated sprites and pixel art. Available as offline application.
Pixelitor - Pixelitor is a free and open source image editing software that supports layers, layer masks, text layers, filters, multiple undo etc.
RawTherapee - A good looking but lesser known photo editing app.
Image Management
Miscellaneous
PSD, Sketch Inspection
Avocode - Avocode - Share and inspect Photoshop and Sketch designs in a heart beat.
Screen Recorder
Screenshot
Streaming
ReadyMedia - Formerly known as MiniDLNA, ReadyMedia is a is a simple, lightweight media server software, with the aim of being fully compliant with DLNA/UPnP-AV clients. The MiniDNLA daemon serves media files (music, pictures, and video) to clients on a network such as smartphones, portable media players, televisions, other computers and some gaming systems.
Video editor
Internet
Browser
Supportive Tool
Web Service Client
Office
Accounting
Office Suites
LaTeX
Markdown
Novel Writing
Productivity
Automation
Actionaz - An utility for task automation Ubuntu/Linux.
Autokey - A desktop automation utility for Linux allows you to manage collection of scripts and phrases, and assign abbreviations and hotkeys to these.
Caffeine - Prevents Ubuntu from automatically going to sleep.
Dock
Cairo-Dock - Cairo-Dock is a desktop interface that takes the shape of docks, desklets, panel, etc.
Docky - Docky is a full fledged dock application that makes opening common applications and managing windows easier and quicker.
Plank - Plank is meant to be the simplest dock of apps on the planet.
Local Search
Miscellaneous
Note Taking
Time and Task
Widget and Indicator
Proxy
Security
Sharing Files
Terminal
Utilities
Video
Wiki software
ikiwiki - ikiwiki is a wiki compiler. It converts wiki pages into HTML pages suitable for publishing on a website. Ikiwiki stores pages and history in a revision control system such as Subversion or Git.
TiddlyDesktop - A desktop app for TiddlyWiki, an open-source personal wiki written in javascript, great if you're still searching for a good note-taking (and more) app.
Zim - A graphical text editor used to maintain a collection of wiki pages, great for notes and documents. Stored in plain text files for easy version control.
Others
Command Line Utilities
Desktop Environments
Display manager
Console
CDM - A ultra-minimalistic, yet full-featured login manager written in Bash.
Console TDM - An extension for xinit written in pure Bash.
nodm - A minimalistic display manager for automatic logins.
Graphic
Window Managers
Compositors
Compton - Compton is a standalone composite manager, suitable for use with window managers that do not natively provide compositing functionality.
Sway - Sway is tiling Wayland compositor and a drop-in replacement for the i3 window manager for X11.
Xcompmgr - Xcompmgr is a simple composite manager capable of rendering drop shadows and, with the use of the transset utility, primitive window transparency.
Stacking window managers
Tiling window managers
Dynamic window managers
Setup
Arch Linux
Bodhi
CentOS
Fedora
openSUSE
Ubuntu
Other distros
To be added later
Discussion Forums
Arch Linux Forums
Bodhi Linux Forums
CentOS Forums
Fedora Forums
Ubuntu Forums
openSUSE Forums
IRC channels
Linux News, Apps, and more:
Reddit
Learn Linux
Linux Hacking/Development
Advanced Linux
Other Awesome Lists
These are the list that I highly recommended:
Contributors
Thanks to All of Github contributors for making this list possible and Everyone @ reddit.com/r/linux & reddit.com/r/ubuntu & vozforums.com & other forums for many suggestions and compliments ...
Guidelines to contribute
Simply put the name of the application in the list. Link to its homepage or a guide on how to install it. Also write a short description for the application + add icon. Make sure it is put under the appropriate topic. If the application doesn't fit in any existing topic, make a new one for it. Ensure everything is alphabetically sorted.
Unsure how to contribute?
Items marked with
are open-source software and link to the source code. Items marked with [
are nonfree (as in nonfree beer) and may cost money to use.
Author's note: Recently, I received feedbacks from you about the quality of some applications on this list. I myself tested them out a lot (not all of them, though). If you have any problems with the apps, please: -> head to the dev page (if available) -> make an issue for the dev there -> make an issue here so that I can consider whether I should get the app out of the list. Remember : Everything has its own quality, so there will never be anything like "best app" or "selective list" here, thank you.
License
This work is licensed under a Creative Commons Attribution 4.0 International License.
A beer in your country can buy a meal in mine.